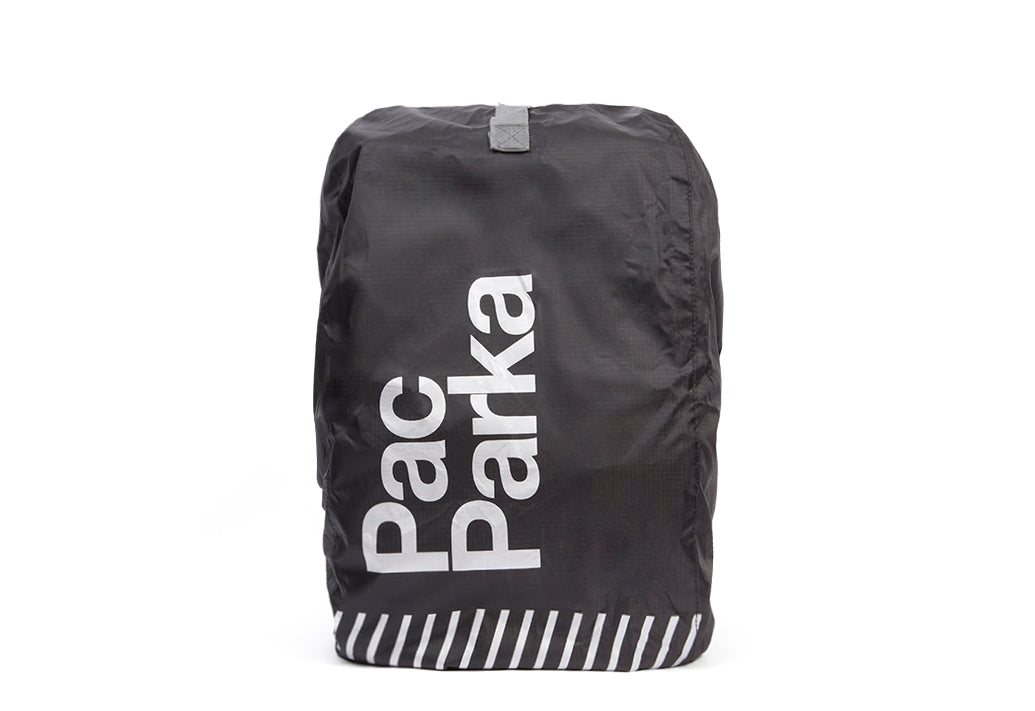 Product Info
The PacParka is a backpack raincover with reflective print. Designed to fit 20-40L bags. It is elasticated and toggle adjustable. It will comfortably fit over bags up to 50cm high x 35cm wide x 30cm deep. PacParka comes with its own attached Stuff Sac. 15cm high x 8cm wide. Small enough to throw in your bag or jacket pocket when packed. Made from Ripstop, this tough little cover offers excellent protection against any wet weather.  
Fitting & Care
Fitting your BikeParka
Each BikeParka adjusts to sit slightly differently on each bike to allow for different sized frames, handle bars and seat heights. To fit BikeParka to your bicycle, simply put the cover under the front wheel and pull it back over your bike. You can then adjust the toggle on top to take up extra slack left or right.
The Stuff Sac
Grab a corner of the BikeParka and literally start stuffing it into the bag. If you try to fold it first, it will end up with air pockets. No need to try and be tidy!
Care over time
Our fabric has been engineered with the highest possible UV protection, but for maximum performance and long-standing wear try and avoid extended exposure to direct sunlight, especially in summer. We would recommend regular rotation of your BikeParka to maximise its longevity.
BikeParka Care Instructions
To clean your BikeParka treat it the same as a good quality tent - sponge clean with warm water and a natural soap/ mild detergent. And don't machine wash or tumble dry.
All BikeParkas are made from tough RipStop fabric so shouldn't rip. Accidents can happen however, so if needed your BikeParka can easily be fixed with a tent repair kit.
Packable Tote/Backpack Care Instructions
To clean your BikeParka Packable - sponge clean with warm water and a natural soap/ mild detergent. And don't machine wash or tumble dry.
Shipping & Returns
If you're not happy with your BikeParka for any reason, you can return it within 14 days of purchase for a full refund, no questions asked.
Shipping costs can be calculated using your address on your shopping cart page before entering any payment details. Orders over £60 are shipped free of charge.